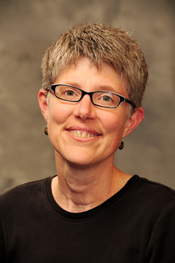 Mary Vermillion is the author of three lesbian mystery novels—all set in Iowa and all featuring the plucky and neurotic radio personality, Mara Gilgannon, and her winsome BGF, Vince Loyacano. Mary is also an instructor in the Iowa Summer Writing Festival and a Professor of English at Mount Mercy University in Cedar Rapids, Iowa, where she teaches a delightful range of courses including Shakespeare, Creative Writing, and Law and Literature. She and her students often conduct book clubs with inmates at the Anamosa State Penitentiary. Recently, she and a colleague took students to Merry Ole England, so Mara and Vince's next adventure may well be set across the pond.
Mary lives in Iowa City with Benjamin Thiel, her partner of twenty-two years. They just finished writing a dual memoir—a love story—about the ways his gender transition changed each of them and their marriage. When Mary is not reading, writing, teaching, or hanging out with her partner, cats, or friends, she likes to travel, lift weights, watch women's basketball, and putter in the yard (pretending that she's gardening).
Listen to Mary's interview at Writers Voices and to her reading and discussion of Murder by Mascot at the world's best bookstore, Prairie Lights. Read Mary's interview with Andi Marquette at Women and Words.
Mary's books:
Death by Discount, Mara Gilgannon #1

• Mara's hometown is divided by a proposed Walmart.
• Lambda Finalist for Debut Fiction and Lesbian Mystery

Murder by Mascot, Mara Gilgannon #2

• Mara confronts homophobia and sexual violence in the world of Division I basketball.
• InsightOut Books' Best Sports Mystery of 2006

Seminal Murder, Mara Gilgannon #3

• Murder most foul—in a sperm bank!
• Happily childfree Mara tries to help her beloved ex, who is desperately seeking motherhood.
© Mary Vermillion.